Nutrition and Supplements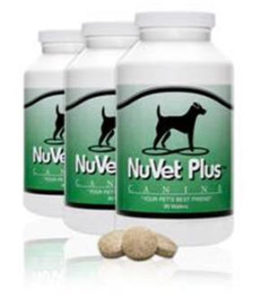 People are always asking us for recommendations for their dogs new and old.  "What
do you recommend the most for our puppy?" or "We're having complications
with our dogs joints. Is there anything your recommend?" So we decided
to create a page on our answer to those type of questions! We HIGHLY
recommend NuVet products. We use their overall vitamins NuVet Plus and
the NuJoint Plus daily and are extremely happy with the results we have
seen with these supplements. We also use the NuVet Ear Cleaner quite
frequently as well as their shampoo's and even the hot spot treatment.
We raising our own dogs and doing rescue work here and their many of
their products have been a great help to us so we are passing along the
information.
We love
animals and we know you love them too! Unfortunately, the majority of
dogs and cats are not receiving a complete, healthy diet and many become
ill and die prematurely. NuVet Labs™ main purpose is to help increase
your pet's longevity and quality of life. Our products, NuVet Plus™ for
Canines and NuVet Plus™ for Felines, provide the very best human-grade,
natural ingredients available and utilize the latest advances in
medical, veterinary and nutritional science. We pledge to adhere to the
highest standards in products and services. Our goal is to maintain a
lasting and caring relationship with our family of NuVet Plus™ customers
and their pets they love.

Our
scientists, veterinarians and formulators began with the premise that
most pet diets are lacking the proper amounts of vitamins, minerals and
antioxidants. There are important nutrients that animals once received
when they were living in a more primitive environment that are not
available in the modern diet. Commercial pet foods contain numerous
by-products that can make them poisonous, toxic and incapable of
reducing the devastating effects of unstable oxygen molecules, also
known as "free radicals." Free radicals have been implicated in more
than fifty health problems in humans and animals including various forms
of cancer, heart disease, arthritis, cataracts and premature aging.
After extensive testing with many different combinations of ingredients,
our scientists formulated NuVet Plus™. We believe, based on the most
current medical, veterinarian and nutritional reports, NuVet Plus™ will
combat the onslaught of free radicals in our companion pets. This unique
formula consists of precise amounts of vitamins, minerals and
high-potency antioxidants that when combined, create a synergistic and
powerful boost to the immune system.
TO ORDER CALL:
1-800-474-7044
YOU WILL NEED ORDER CODE #: 69920
http://www.nuvet.com/69920

Help Heal and Protect
Your Pet – for
life!
NuVet Plus can help heal and protect against the ravages of
free radicals that attack your pet throughout its life.
Fully safe and affordable**!
NuVet
helps with things various ailments
* Allergies
* Skin and Coat Problems
* Scratching, Itching, Biting
* Hot Spots
* Arthritis and Joint Problems
* Premature Aging
* Low Energy Levels
* Diabetes and Liver Problems
* Cataracts and Tumors
* Digestive Problems
* Tearing
* Heart Disease
**Saving JUST ONE major trip to the vet could pay more than a
lifetime supply of NuVet Plus®
NOTE: This product is Not available to the general public without an
Order Code supplied by your Pet Professional
Revolutionary product,
affordable– natural, water soluble
GUARANTEED – No sugars or
fillers
GUARANTEED – We use real
chicken liver – not cooked, but instead it's paddle dried by our
patented process to preserve its Omega Fatty Acids
GUARANTEED – not heat
treated (heat destroys vitamins A, E & B1) – it's why NuVet Plus
wafers crumble easily
GUARANTEED – So pure it's
produced in an FDA (human-grade) manufacturing facility (virtually
unheard of in the pet industry because of the high cost / monitoring
required)
Our team of Veterinarians,
Physicians, Pharmacists, and Nutritional Scientists took eight years
to develop this revolutionary product
On the market for over 13
years/ We're one of the oldest US pet supplement companies
MONEY BACK GUARANTEE – Call
now to order this revolutionary product. If this isn't the most
incredible pet supplement you've ever had, we'll give your money
back!
Helps
Heal Current Problems – and Protects the Life and Health of Your
Pet – Starting Today!
Not available
in stores  – 1
800-474-7044 – Order Code:69920
"Your Pet's Best Friend"
Get your pet healthy –
Keep your pet healthy!
Natural, Human Grade Daily Supplement
So pure, it is one of the few pet products manufactured
in an FDA (human-grade) pharmaceutical manufacturing facility
Dog and cat versions available
No sugars or fillers
Money-Back Guarantee
TO ORDER, CLICK HERE OR CALL:

800-474-7044
ID Code:69920
We were so
thrilled with the results that we were seeing with the NuVet Plus that
we decided to give the NuJoint Plus a try. We have been blown away by
how amazing this supplement works. We've used it on multiple rescue dogs
that we have taken in and to see a dog that goes from being stiff and
achy to bouncing around like a puppy, is amazing! After seeing the
wonderful results on the older dogs we did a little more research on it
and decided to start using it for all the puppies for preventative care.
Between the bloodlines we choose and the supplements we are seeing
remarkable joints in our dogs. Everyone knows that large dogs can be
prone to joint issues so we feel prevention supplements is the best key
to avoiding these potential complications.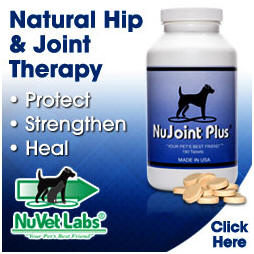 NuJoint
Plus:
Hip and Joint
Therapy that Works for Dogs of All Ages!
Protect: Helps
to Reduce the Risk of Osteoarthritis & Cartilage Deterioration
Strengthens:
Supports Optimal Joint Health & Mobility
Heal: Helps to
Lubricate Joint & Rebuild Cartilage
If you are
looking for high quality supplements or products we HIGHLY suggest
looking into NuVet products, we have been extremely happy with
everything we have used from them! So much so that we request ALL of the
puppies we place to stay on the NuVet Plus and the NuJoint Plus until
they are at very least 2 years old.
800-474-7044    Order Code: 69920          http://www.nuvet.com/69920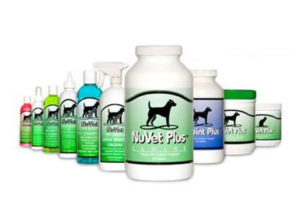 TLC PUPPYFOOD
Here at Wrinklypaws we have been using TLC Puppyfood for around 6 yrs. I have been beyond thrilled with it and the many benefits we have seen with it. As a breeder I was always trying to find the best food for our babies and I truly felt like we found it with TLC. Some of the things I noticed most with it; tear stains disappeared, their little ears stay so so clean, their coats are phenomenal! I highly recommend TLC Pet foods to everyone but especially those getting babies from us being that their sensitive tummies are used to TLC. If you do a quick change to something else it really does a number on their bellies and it can take weeks for them their tummies to settle and get back to solid stools.
Taking the time to prepare for your puppy's arrival will help to ensure a smooth transition from our home to your home, leaving you both more time for all the love and excitement that comes with bringing home a new puppy. As your puppy's Breeder, we are here to offer you expert advice on all things related to the health and well being of your new pet. To help both you and your puppy get off on the "right paw", we recommend you continue to feed TLC Puppy Food. Continuing to offer your puppy this incredibly dynamic food is the first step to helping them adjust to their new life. Delivering the ultimate balance of quality meats, animal fats, vitamins and minerals; This mix offers them everything needed for optimal health and nutrition. TLC Pet Food delivers directly to your door, you will not find it in stores.. Follow the link below for $5 off your order or click here:  https://tlcpetfood.com/nutrition/wrinklypaws/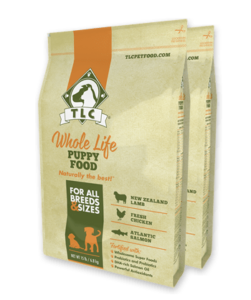 I have gone through SO MANY dog beds over the years. I can't even tell you how many different brands I've tried. I think some of my Bostons have dug like crazy on their dog beds just to see if the're as tough as the websites claim they are! The one and only one I have come across that truly holds up to all dogs big and small around here is the Kuranda beds. I have had them for 3 years now and so far they look just like they did the day I got them. I haven't had to replace any part of them. Now I am using the aluminum frame with the vinyl material so I can't recommend the others as much but I would imagine they are pretty good as well. So here is our link we use if you are interested in checking them out!